2018 Calendar: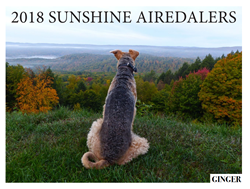 The 2018 SAF calendar is here. There are a limited number remaining. The price is now reduced to only $10.00. Thanks for everyone's continued support and to all who submitted pictures of their Airedales.
Spring Get Together
The Spring Get Together is Saturday March 24, 2018 from 11-2. Our Theme is Nose Work.
The event will be at Stephanie Kleinman's farm in Alachua Florida. Stephanie is also an AKC Judge. Dr. Cindy Ice will conduct the presentation on how to start your dog on the great sport of nosework.
K9 Nose Work is a fairly new recreational activity dog owners can enjoy with their canine companions. It evolved from the training professional scent detection dogs receive. Fun nose work encourages your dog's natural drive to hunt, coupled with her special talent for picking up scents and finding their source.
Please bring your own brown bag lunch. Water and soft drinks as well as napkins and cups will be provided. Those attending will also need to bring chairs and make sure your dogs are immunized etc. Please RSVP to Pat Bellis at: Pbellis@gator.net or by phone at 352-281-0129. Directions to the event were provided in the March Newsletter and also in a separate email.
Look For Us
Be sure to check our new updated website for our latest club news and stories. And don't forget to check out our Facebook page! It's a great place to share photos and Dale stories. Facebook users search for Sunshine-Airedalers-of-Florida (with hyphens) and please take time to "like" and/or "follow" us.