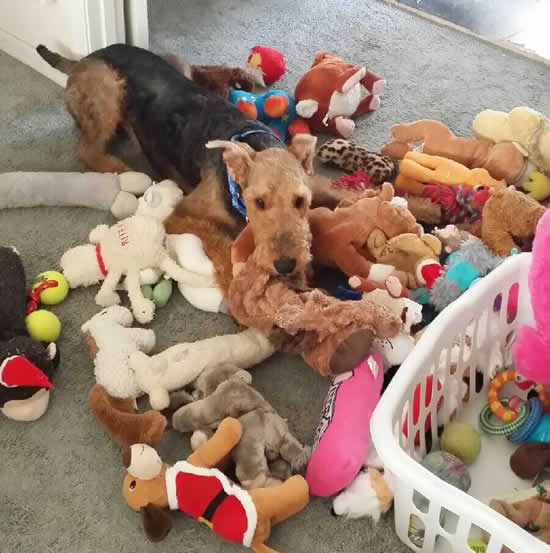 Committed to the successful placement of Rescue dogs to Florida residents, Sunshine Airedalers take pains to ensure that each dog admitted to our program finds a wonderful, permanent home. We'll ask you a lot of questions that may seem inquisitive, but only through the frank, open exchange of information can we learn about you, your family life, recreational habits and personality.
Have faith! Adoption is sometimes accomplished quickly, but it may take weeks, even months after your application has been submitted before the right dog comes along. To begin the process, fill out the application found on this website. Answer each question honestly and completely, elaborating on details of relevance to Airedale ownership. Information about your current pets is critical, since some Airedales are not trustworthy with other animals that, to an Airedale, look like small prey.
Airedales were originally bred to hunt, and their instincts to protect and defend still run strong. An Airedale can entertain himself for hours stalking a cockroach or lizard, but some will also chase and kill cats, rabbits, gerbils, parrots and other domestic animals.
Once you've applied for a Rescue Airedale, a club member will contact you to schedule a home visit and get to know you better. During the home visit, you'll be asked a number of questions about your physical activities. We'll take a look at your back yard fencing and your home's floor plan, keeping in mind that Airedales need plenty of room to romp and play.
During the home visit (Some Home visits may be postponed due to Covid 19 Safety concerns) your rescue volunteer may bring along an Airedale to give your family a chance to experience and see the breed at close range. You may be surprised to discover, for example, that the coarse, wiry coat of the Airedale sheds periodically, leaving tiny ringlets of black or tan hair on floors and carpets just like any other small mammal. While each dog has its own unique blend of spunk, intelligence and fun, the Airedales' bold exuberance pervades the Airedale breed. Most Airedale owners agree these robust, loving dogs affirm the nickname, "King of Terriers."
After the home visit,the rescue team will confer about dogs currently available, and which, if any, might fit comfortably into your life. Be patient! The Airedale adoption process takes time, but we're convinced it's worth the wait. Thanks to our years of experience, we rarely place a dog that fails to bond with its new family and bring years of love and joy.
Meanwhile, learn all you can about the breed. Talk to Airedale owners in your region, and take advantage of their invitations to get to know their dogs. Meanwhile, we'll be watching out for an Airedale that comes close to your preferences of gender, size, age and temperament. All rescue Airedales must first receive a thorough examination by a qualified veterinarian, and must receive shots, identichip, neutering/spaying, grooming and personality assessment. In some cases a dog may stay in a foster home until medical and behavior issues can be resolved. Once the rescue team is convinced that you are the right family for a waiting Airedale, we'll contact you to set up a meeting.
Some good advice: If you really are interested in adopting a Rescue Airedale here in Florida, get your application submitted to the Sunshine Airedalers as soon as possible! You must have a legal Florida residence.
When one of our rescue Airedales is ready for adoption, we will first check our current applications to see if one of our waiting applicants would be a good match for that rescue.
After you have submitted your application and during the waiting period, if your desire for one of our rescues changes just let us know and we will take you off our waiting list.
If the information on your already submitted application changes, please file a new application, and note on that it is a revised application.