2020 Calendar:
The 2020 SAF calendar is here. These make great gifts. Order early.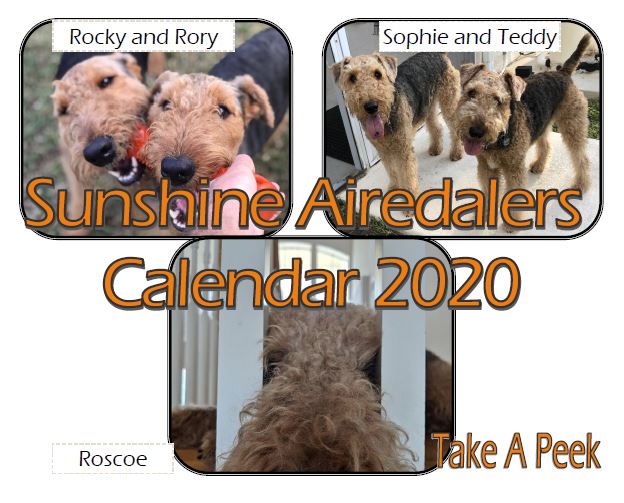 The price is only $15.00. Thanks for everyone's continued support and to all who submitted pictures of their Airedales.
Christmas/Holiday Party:
Our holiday party will be at Ed and Gail Boatwright's
When: December 14, 2019 Time: 11 am-2 pm
The Boatwright's will be providing the food and beverages. RSVP: Gail71257@gmail.com
We are finalizing details for our other social meetings for February
and March/April. We will also send out emails with details of the social functions including the address
etc. closer to the actual dates of the functions. Please remember to RSVP for each Club function so we can
make sure we have enough prizes, drinks, food etc.
Look For Us:
Be sure to check our new updated website for our latest club news and stories. And don't forget to check out our Facebook page! It's a great place to share photos and Dale stories. Facebook users search for Sunshine-Airedalers-of-Florida (with hyphens) and please take time to "like" and/or "follow" us.