Sophie
Our sweet little airegirl Sophie came to us at almost eight years old in April 2015. She needed rehoming due to a "cat issue" and it was our good fortune to adopt her. She immediately settled in and tried to take over, as part of our now 3 dog pack. She was sweet, loving, funny and fierce. She chased after every bird, squirrel, and gopher tortoise she could find; ergo one of her nicknames was "Zena, Warrior Princess".
She was a quick study and rapidly learned the good and bad habits of her brothers Solo and Duo, including the convenient doggy door and how to find the comfiest human bed or couch on which to lie. Particularly fond of doorways she would lie on her back, feet against the wall to sleep!
She was my little shadow and followed me everywhere in the house, but sadly I had to escort her across the Rainbow Bridge after a very sudden illness. She was active and happy until 3 hours before she crossed, and is greatly missed. We were lucky to be able to share our lives with her, but she has left a hole in all of our hearts. We will always think of her as our little angel watching over us!
Sunshine Airedalers Perpetual Memorial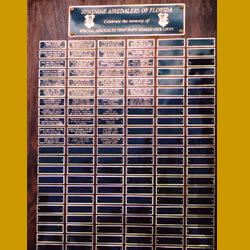 The Memorial Plaque is a permanent way to commemorate our beloved Airedales. The cherrywood plaque has mounted black and brass plates, ready for engraving with a special Airedale's name and a message of up to three lines of text. For a minimum donation of $75.00, you can order a special place for an Airedale on this memorial plaque. What a lovely way to remember your beloved Airedale or one that belonged to a friend and support Florida Airedale Rescue in the process!
This plaque is proudly displayed at every meeting.
Donate a minimum of $75 and receive an engraving on the Memorial Plaque as a thank-you gift.
Or if you prefer to use a check, make your check payable to Sunshine Airedalers of Florida and note the purpose of the donation. Mail checks for the Memorial Plaque donations to:
Jean Alli, Treasurer
401 Althea Rd. Bellair, Fl 33756
Include the name of the Airedale to be memorialized, along with the message desired. If ordering online, send your name and message to: Lorrie Tisdelle at lorrietis14@yahoo.com. Thank you for supporting Airedale Rescue in Florida!
Sunshine Airedalers is a 501(c)(3) nonprofit organization. Contributions in the United States are tax-exempt to the extent provided by law.