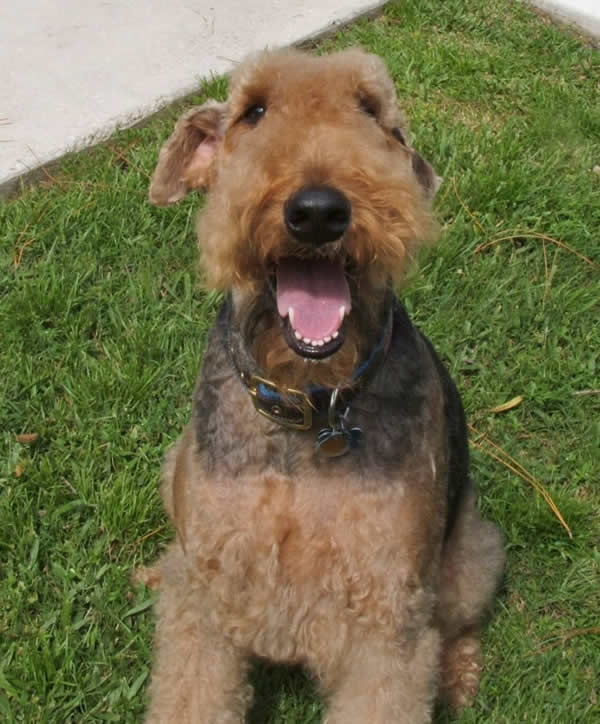 Found a Stray?
Sunshine Airedalers cannot take immediate ownership. There is a mandatory stray hold in most counties in Florida. If unclaimed, we do transfer stray animals into our care, when appropriate.
Please remember that just because an animal doesn't have a collar or "looks" like he/she is not in the best of shape, doesn't mean that there is not a loving guardian desperate to find their beloved companion. We are sometimes quick to judge based on an animal's appearance and we never know the circumstances that led up to the animal becoming lost, stray, or found. If this was your animal, wouldn't you want the finder to do everything possible to get them home to you? By following the tips below, you can help.
Take him or her to a shelter or veterinarian to be checked for a microchip.
Seek IMMEDIATE veterinary care for a pet that is gravely ill or injured.
Check for a county license / id tag.
File a found pet report with local humane societies and rescues.
Contact all area shelters
A color photo is one of the most beneficial tools used to help locate the owner of a missing pet. Notify friends, neighbors and even local businesses in the area where you found the pet and provide your contact information
Read the "lost" ads
Post flyers
Check the laws in your county, the animal is not "owned" by the finder until the holding period for strays (as specified by state or local laws) has expired and the finder has made an attempt to reunite the animal with their original owner and/or has taken steps—obtaining vaccinations, license, collar and identification tag—to prove they are now the owner.
Need to Rehome a Pet?
Sunshine Airedalers of Florida understands that it may not always be possible for owners to provide for their dogs in dire situations such as illness, job loss, relocation, etc. It is never an easy decision to relinquish your dog, no matter what the circumstances.
If you would like to talk with us about solutions to help you keep your Airedale, we may be able to point you in the right direction for resources. Many problems can be corrected with proper training, patience and knowledge.
If finances are an issue, there are some organizations that provide financial assistance for families unable to pay for large veterinary expenses and the like.
If all else fails and there is no other choice, let us help you find the perfect home for your beloved Airedale. Your Airedale will be placed in a loving, family environment with all the comforts of home until he/she is adopted. We screen all our applicants and you can be rest assured that we will do our best to provide a new forever home for your Airedale.
To surrender your Airedale, you can contact a regional coordinator near you.Contact Us
You can expedite your relinquishment by completing the Surrender Form by downloading our PDF form, completing and mailing or faxing it to us. The Surrender Form asks questions about your Airedale which helps us get to know your dog and place him/her with an appropriate Foster home. The bottom of the form's Rescue Release is the legal document that transfers ownership of your Airedale to Sunshine Airedalers of Florida.